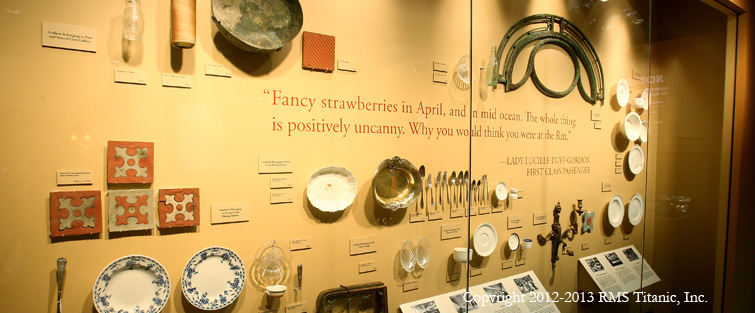 Atlanta selected as one of eight cities to host exhibit during 100 year commemoration.

Titanic: The Artifact Exhibition is opening a Midtown exhibit on April 6, according to a press release Wednesday.
The new exhibition will replace Dialog in the Dark, at 265 18th Street, inside the Atlantic Station Premier Exhibition Center.
Dialog in the Dark, which made its US debut in Atlanta in August 2008, had nearly 300,000 Georgia visitors. It will close on March 11, 2012.
"Dialog in the Dark has been an exceptional experience for the Atlantic Station guest for the past three years," Mark Toro, managing partner, North American Properties, said in a release. "There's already so much buzz about Titanic in Atlanta and we are thrilled to be able to bring such a special and unique experience to Midtown."
Atlanta will become one of eight cities to host Titanic: The Artifact Exhibition during its 100 year anniversary. The exhibit will feature more than 200 artifacts, 100 recently conserved and displayed for the first time.
According to the release, highlights of Titanic: The Artifact Exhibition Atlanta to include:
212 artifacts recovered from eight research and recovery expeditions to Titanic's wreck site
100 recently conserved artifacts to make their debut in Atlanta, never having been seen before
Featuring the D-Deck door, a massive steel door originally mounted in the side of Titanic's hull that was, in effect, the "front door" for first class passengers
Discover untold stories of Titanic's passengers and crew- unveiled for the first time anywhere
A gallery devoted to local connections to where visitors can learn how the sinking of the great ship resonated here in Georgia
Experience historically accurate room recreations including a simulated iceberg chilled to 28 degrees, allowing visitors to feel the temperature of the North Atlantic the night Titanic sank
View the latest video from the wreck site and understand how Titanic rest today
Tickets for Titanic: The Artifact Exhibition go on sale March 5, 2012.
[Disclosure: the author of this article is employed by North American Properties (Atlantic Station's developer). Articles relating to North American Properties, Atlantic Station, or its affiliates will be treated like all other news content presented on What Now Atlanta. The owner of this blog will never receive compensation in any way from this blog's content unless explicitly noted.]