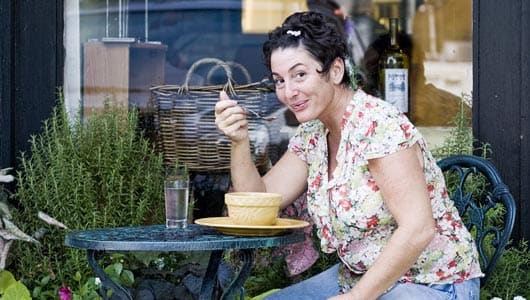 Café Jonah and the Magical Attic to open next month

Jennifer Levison, the owner of Buckhead's Souper Jenny, is opening a new restaurant concept in town next month, according to a press release from her publicist.
Located at 3119 Paces Ferry Place, the new restaurant, Café Jonah and the Magical Attic, will offer coffee service, breakfast and lunch as well as prepared to-go items including dinner entrees.
"Café Jonah and the Magical Attic really combines everything I love in life," says owner Jennifer Levison.
"It's inspired by how I live and places I've visited, particularly old-fashioned European cafés. Guests will enjoy a slow pace to connect or spend time alone with a meal or cup of tea in the café. Upstairs, we'll offer inspirational books, candles, aromatherapy oils and even periodic classes and events."
Here's some additional details included in the press release:
The new concept takes Levison's desire to provide an old-fashioned outlet for busy Atlantans to take time for themselves, restore and find inspiration – core elements at Souper Jenny where she shares daily inspirations, accepts only cash and limits cell phone use – to a new level. Café Jonah and the Magical Attic – which is named after her 7-year-old son, Jonah – will be a blend of neighborhood coffee house, café and mini spiritual retreat.

The Café's menu will reflect Levison's emphasis on fresh, local and organic ingredients. Breakfast offerings will include: two frittatas daily, a breakfast sandwich of the day, artisan pastries and bakery goods and a design your own fruit salad with toppings like yogurt and granola. The lunch menu will feature a daily market plate with three salads and homemade crackers, three signature sandwiches, a quiche of the day and a wide array of homemade sweets.

Levison will showcase products from many of her favorite suppliers. From Holeman & Finch breads and pastries to Cake Hag desserts to handmade teas and local eggs, most items featured on the menu and on the shelves will have a local connection. Coffee and espresso service will include brewed and French Press Batdorf & Bronson coffee. A daily selection of gluten free breads and baked goods will come from Sally's Bakery.
Café Jonah and the Magical Attic
3119 Paces Ferry Pl NW
Atlanta, GA 30305
(Photo credit: mnn.com)